R E Thompson & Co. (Vacuum) Ltd
CNC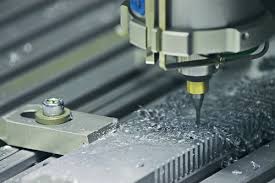 CNC Milling
R E Thompson's key strength is its CNC milling capability. Equipped with 10 CNC machining centres, including 4 high-speed horizontals integrated with two Fastems Flexible Pallet Magazine. We have the capacity for high volume close tolerance work, engineered from solid models with offline C.A.M. programming.
Horizontal CNC Milling
Equipped with 7 horizontal CNC machining centres, we are able to offer high volume production around the clock, as four of the CNC machining centres are integrated to our state of the art FASTEMS automated pallet changing lines. As material for a multiple of different components can be loaded to each pallet we are able to machine parts at a much faster rate than on a vertical CNC machining centre due to the high-speed spindles, machine construction and with the twin pallets the machines stops cutting for a matter of seconds. Horizontal CNC milling is ideally suited to deep pocket milling and multi-plane CNC machining of small parts and requires minimal operator supervision. Each machine is equipped with a chip conveyor for collecting high volumes of swarf and a tool breakage detection system which combined with active S.P.C. means precision is assured. Maximum billet size 500mm x 500mm and 700kg.

Vertical CNC Milling
For larger & heavier billets we operate 3 MORI-SEKI vertical machining centres, one Dura 5100 with a working envelope of 1,359mm x 600mm x 510mm & a Nikken rotary axis and two Dura 5080 with a working envelope of 1,100mm x 600mm x 510mm and a loading capacity of up to 1000kg.
Machine Overview of our CNC Milling Capability
#
Name
Type
Axis
RPM
Tools
Working Surface
Traverse
4
Mori Seiki NH5000
Hor
4
14K
240
500 x 500
(x) 730mm
(y) 730mm
(z) 850mm
3
Mori-Seiki SH400
Hor
4
12K
60
400 x 400
(x) 560mm
(y) 510mm
(z) 510mm
1
Mori-Seiki Dura 5100
Ver
4
10k
30
1,359 x 600
(x)1,050mm
(y) 530mm
(z) 510mm
2
Mori-Seiki Dura 5080
Ver
3
10k
30
1,100 x 600
(x) 800mm
(y) 530mm
(z) 510mm
CNC Turning
We offer 5 axis CNC turning up to 175mm diameter x 420mm long. Our facilities include twin 3 and 4 jaw chucks for holding standard and irregular shapes such as castings, off centre tooling, and auto bar feed magazines.
CNC Mill/Turn
RE Thompson offers CNC turning up to 65mm diameter on a twin-spindle lathe with lower turret with turning and milling operations PLUS a machining spindle with full five axes machining capability in one operation. This reduces lead-times by eliminating queuing between operations.